Famous stars of alpinism were in Selva
for the 2nd Karl Unterkircher Award at the 6th of July .
The winner of this award: Marina Kopteva, Galina Chibitok and Anna Yasinskaya (Ukraine) - opening of the northwest wall route Great Trango Tower (Pakistan)
Mayor Selva Peter Mussner with the

Sherpas from Nepa

l
Guests of honor
Founders: Peter Unterkircher, Herbert Mussner and Silke Perathoner-Unterkircher
Temba Sherpa and Subin Thakuri,

two Sherpas from Nepa

l
Silke Perathoner-Unterkircher with Kurt Diemberger
Dr. Med. Oswald Oelz, Ivo Rabanser, Carlo Caccia, Christoph Hainz and Silvio (Gnaro) Mondinelli
Family Unterkircher, provincial councillor Dr. Florian Mussner with Günther Comploj

Karl Unterkircher Award won by Ukranian Great Trango Tower expedition



On Friday 6 July at Selva di Val Gardena (Italy) Marina Kopteva and Anna Yasinskaya from the Ukraine and Galina Chibitok from Russia received the Karl Unterkircher Award 2012 for their new route established in 38 days up the NW Face of Great Trango Tower (Pakistan).
The second edition of the Karl Unterkircher Award gathered together a host of international climbing starts including Simone Moro (Italy), Nicolas and Olivier Favresse (Belgium), Marina Kopteva, Anna Yasinskaya (Ukraine), Galina Chibitok (Russia) as well as the members of the jury Dr. Oswald Oelz (Jury President), Silvio Mondinelli, Christoph Hainz, Ivo Rabanser and the mountaineering journalist Carlo Caccia. Special guests included legendary Himalayan mountaineer Kurt Diemberger and the Sherpa Temba and Subin who knew Karl Unterkircher personally.





The three climbs nominated for the awards were introduced with video and slideshows by the alpinists themselves.



Simone Moro (Italy) presented the first winter ascent of Gasherbrum II (8034m) climbed together with Denis Urubko (Kazachistan) and Cory Richards (USA) in Febraury 2011, while Belgian climbers Nicolas and Olivier Favresse presented their 9 Big Walls established with Sean Villanueva (Belgium) and Ben Ditto (USA) around Cape Farewell, located on the southern and western coasts of Greenland in July and August 2010 and which had already netted them the Piolet d'Or 2011. Last but by no means least, Marina Kopteva, Galina Chibitok and Anna Yasinskaya talked about their 38 days and new route up the NW Face of Great Trango Tower (6286m), for which they had received the Russian Piolet d'Or.


"The decision proved extremely difficult due the quality of all the nominated ascents" stated the Jury, adding "they all represent different aspects of modern alpinism and are difficult to compare. In awarding the "Karl Unterkircher Award" we do not want to place one ascent above the rest, simply bring it to the forefront once again, in particular with regards to the spirit with which Karl took to the mountains."


The 2012 award was presented on stage to Marina Kopteva, Galian Chibitok and Anna Yasinskaya and the jury underlined that they recognised not only the clean style of ascent and other characteristics of the climb, but also felt that this prize might make a significant contribution to female mountaineering. The trio received the award - a 12kg piece of Dolomia rock which represents the Sassolungo peak and Karl's smiling face sculpted by local craftsman Gerold Moroder. Furthermore, each expedition member received 2000 Euro prize money, while all other nominees received 1500 Euro prize money and a slightly smaller sculpture.
A special thanks was expressed to all sponsors and supporters, without whose help this unique event could not be held.


The evening celebration included speeches by regional politician Dr. Florian Mussner as well as the mayor of Selva Dr. Peter Mussner. Furthermore, Sherpa Temba and Subin who knew karl personally and who had travelled specifically from Nepal for this event, contributed by talking about their "Sagarmatha" project in Nepal's Thulopakar region. This non-profit organisation provides integrated development and improvement of health and living conditions of the local population and is currently searching for volunteers and qualified assistance. For those interested, check out the official website After their presentation the two Sherpa distributed some "Chata", the typical white silk scarves which represent happiness, friendship and participation.

Kurt Diemberger produced a fitting end to the 2012 "Karl Unterkircher Award" by reminding everyone about the importance of this prize as an appreciation of alpinism and, above all, as a way to remember "our Karl".
2nd Karl Unterkircher Award - Friday 06.07.2012
The event is supported by:

ADMISSION FEE

Info: +39 0471 777900

or

Booking of the tickets in the three Tourist Office of Val Gardena and at the Online Shop on

www.valgardena.it

.


Entry: 15,00 Euro
(Alpine Club Member – 10,00 Euro)


On Fri. July 6th 2012 for the second time, exceptional mountaineers are awarded in Selva – Val Gardena – Dolomites – South Tyrol
The event takes place at the Culture house – 9 p.m. The extreme mountaineer Karl Unterkircher died on the 15th July 2008 during an expedition on Nanga Parbat.
In honour to keep his name alive in the world of mountaineering, his family and friends have decided to create an award. As biennial event it will be granted to mountaineers who have demonstrated great climbing skills or carried out extreme expeditions in alpine style during the years 2010 – 2011.
The members of the work group will select 3 mountaineers or teams of mountaineers from all over Europe.

Their achievements will be presented during this evening with video recordings and/or slide shows.

An international group of judges will make their final and incontestable decision for the prize winner.
All alpinists receive a plaque made of dolomite and prize money.

As part of the evening program the Sherpas Subin and Temba will introduce the

medical project in Thulopakar (Nepal)

.




The climbing guild Catores and The Gardena Mountain Guide Association nominate the following three climbers/groups:



1st Ascent winter ascent of the Gasherbrum II 8035 m (Pakistan)
The Italian Simone Moro, Denis Urubko from Kazakhstan and Cory Richards (USA)

summited on Feb. 2nd 2011 first winter ascent of the Gasherbrum II with temperatures down to -50°

C

Big Walls (Greenland)


9 new routes on Big Walls of Cape Farewell on the southern and western coast of Greenland climbed by Sean

Villanueva

, Nicolas e Olivier

Favresse

(Belgio) e Ben

Ditto

(Usa);

The most challenging route - Devil's Brew - took 10 days. The company's own sailing boat served most times as base camp. For this extraordinary expedition, done in July and August 2010, they were honoured with the Piolet d'Or 2011.



Great Trango Tower 6286m (Pakistan)

New opening of the northwest wall route "Parallel World" (VI+ 7b, 2580 m) by

Marina Kopteva, Galina Chibitok and Anna Yasinskaya

and from 22.7. – 9.8.2011 (38 days in the wall) and awarded with the Russian Piolet 'Or in 2011. It is the first time that women have received this honour.


   
10.07.2010
World-famous stars of alpinism met on 9 and 10 July in Selva Val Gardena for the first edition of Karl Unterkircher Award.
The winner is Ueli Steck from Switzerland.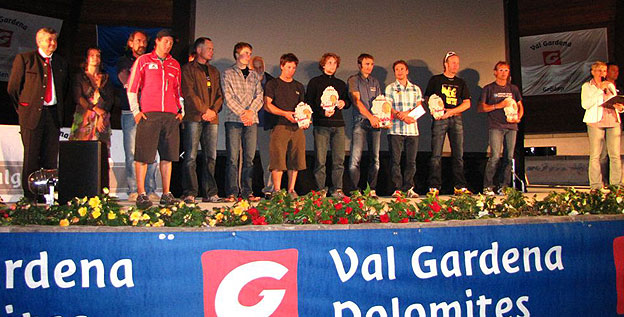 The winner is Ueli Steck from Switzerland.

Kurt Diemberger

, the only living man who managed to climb two eight thousand peaks still unclimbed.

from left: Peter Unterkircher, Silke, Ueli Steck, LR Dr. Mussner Florian, Herbert Mussner
Honour jury: from left Carlo Caccia, Rolando Larcher, Ines Papert, Hans Kammerlander, Volker Leuchsner

Download the press releases:

After many months of intensive preparation by a dynamic working group and highly related to the memory of Karl, was held on two consecutive days with great success the event Karl Unterkircher Award.
On 9 July came together at Selva Val Gardena: Simone Moro (Italy) Markus Prezelj, Rok Blagus and Luka Lindic (Slovenia), Ueli Steck (Switzerland), Robert Jasper (Germany), Roger Schäli (Switzerland), Samuel Anthamatten and Michael Lerjen (Switzerland) as well as members of the award jury Ines Papert, Hans Kammerlander, Rolando Larcher, Carlo Caccia and Volker Leuchsner - the latter two chief editors of alpine magazines "Alp" "IBoderline" and "Klettern".

The first evening in Piazza Municipio (town square), the first three projects in the form of a 20-minutes video recording have been submitted by the nominated climbers as follows: To lighten the evening Hubert and Lucia Frontull have performed the song from the appropriate name "Dolomite".

The next day, the world stars and members of the jury were invited by the Catores climbers and Val Gardena mountain guides to do some climbing together. Towards the early afternoon all the alpinists was then left with the working group at the hut "Salei" to eat together. This friendly meeting was much appreciated by these mountaineers who have taken the opportunity to exchange experiences and to discuss their future plans.

Later, in Piazza Nives, tourists and locals were waiting for the formal naming of the new multipurpose building in "Karl Unterkircher Zenter". After the official speech by the Mayor Dr. Peter Mussner and words of thanks by Silke Unterkircher it was passed to remove the cover plate. Here our elite mountaineers have granted an autograph and Silke was available to autograph the book on Karl "The last embrace of the mountain." A 'special honour was the presence of Kurt Diemberger during the party. Diemberger is an icon of mountaineering world and is the only living man who managed to climb two eight thousand peaks still unclimbed.

The evening then continued with the second sequence "Karl Unterkircher Award" at the town square.
Besides Provincial Assessor Dr. Florian Mussner, who had taken over the patronage of this event, were Mayor Dr. Peter Mussner, President of the Tourism Association Josef Kelder and other personalities from the tourism and business communities attended.
Kasslatter Ellis, director of the Tourism Association and also part of the working group, presented and moderated the nominated mountaineers:

Marko Prezelj, Rok Blagus the indication und Luka (Slovenia), authors of three new routes in splendid style in the group of Bhagirathi, in the Garhwal Himalayas. 15. September climb absolute Bhagirathi IV (6194 m) to the west wall and the north ridge (1000 m, D) 21:22. September: wall south-west (1300 m, 6b, M5 and WI5, ED) of Bhagirathi III (6454 m), from 29.09 to 10.01: wall south-west (1300 m, 6b +, M8 and WI6 +, ED + / ABO- ) of the Bhagirathi II (6,512 m);
Ueli Steck (Swiss) who has demonstrated a rare versatility beyond one hour and 56 minutes Schmid on the north face of Matterhorn (13. January), the Golden Gate (8) on El Capitan (May) and the normal routes of GII (8035 m, July 9) and Makalu (8463 m, September 24).

Between them was a performance of the song "'Tribute to Karl" composed and written by Nicole Mussner (guitar) and accompanied by Isabell Mussner (2. Vocals) and Armin Grassberger (bongo). The public has enthusiastically received this interlude giving a long and warm applause.

The evening reached slowly its highlight. Silke and Donato, an employee volunteer of Sportmeet (international network of sports brotherhood through sport, to which Karl felt bound) presented a project to support remote Lhasa in Tibet. For years Karl wanted to help children in Tibet and through this initiative we wanted to realize this wish. More detailed information are given on the website: www.famiglienuove.org
Then followed words of thanks to the working group, to the sponsors and media partners marketing Val Gardena and a brief tribute to Karl by the coordinators of this event Silke, brother Peter and Herbert Mussner, who are also the founder of this event. The solemn speech of "Karl Unterkircher Award" was held by Provincial Assessor Dr. Florian Mussner. Finally, Kurt Diemberger was asked on stage, who learned Karl in 2004 during the K2 Expedition. He paid tribute with a short speech and concluded with the words "The idealism of Karl continues: without being locked up without having to set a limit, without posing limits to what feels like the truth".

The jury's verdict of first edition Karl Unterkircher Award has kept to emphasize that the choice has been very difficult for the high level of all the five climbers, representing different aspects of mountaineering contemporary difficult to compare. The assignment of the prize "Karl Unterkircher Award is therefore not intended as a race between the alpinists, but wants to honour the alpinist who is more likely in the spirit of Karl.

Ueli Steck was finally called on stage. A trained carpenter of Ringgenberg in Switzerland, accepted the twelve-pound Award of dolomite rock done by Moroder Gerold (in collaboration with Karl Runggaldier) and the cash prize of Euro 3000. The other nominees received an award in slightly smaller form, and a cash prize of Euro 1000 Michael Lerjen not sparing with praise, saying: "The greatest achievement have given the relatives and friends of Karl Unterkircher. Because it takes more courage and strength to create such an award than to ascend the Jasemba.

What matters, however, is that Karl Unterkircher Award was a successful event. "A feast," writes a journal of mountaineering, "comparable in due proportion, to the Piolets d'Or".



Herbert Mussner
22.06.2010
3° comunicato "Karl Unterkircher Award"
21.06.2010
"La scalata continua…" e gli abitanti di Selva Val Gardena fanno i conti alla rovescia per il premio "Karl Unterkircher Award". Il paese è pronto ad accogliere l'eccellenza dell'alpinismo il 9 e 10 luglio.



Fervono gli ultimi preparativi, dei quali si è impegnato in tante sedute un gruppo di lavoro dinamico, entusiasta e competente. L'evento si svolgerà interamente nel segno di un incontro amichevole tra alpinisti di rango eccezionale, locali e turisti, senza dimenticare il personaggio principale: Karl Unterkircher.



Con la partecipazione di alpinisti d'elite, sia i componenti della giuria d'onore che gli alpinisti nominati (ved. sotto), il premio d'onore istituito per la prima volta a Selva, dovrebbe avere un feedback positivo. Uno dei tanti highlights di queste due serate all'insegna dell'alpinismo, sarà sicuramente la consegna del premio d'onore. Il premio, raffigurante le cime del Sassolungo – simbolo dalla Val Gardena - dal quale sorride il volto di Karl, è grande ca. 30 x 30 cm e pesa ca. 10 kg. Il materiale del premio è composto di sasso di dolomia, legno di ciliegio e scritte in Inox. Una combinazione degna del noto talento artistico gardenese. Questo singolo esemplare è concepito da Gerold Moroder (www.design-urgestein.com), amico di Karl, che ha già creato un'altra opera d'arte, (il memorial posto al campo base del Nanga Parbat) assieme alla ditta 3D Wood (www.

3dwood.com

), abilmente diretta da Karl Runggaldier.



Gli altri 4 alpinisti o gruppi ex equo saranno onorati con un premio analogo, sebbene di misura più piccola.





Giuria d´onore:

Ines Papert, Hans Kammerlander, Rolando Larcher, Carlo Caccia e Volker Leuchsner.

Alpinisti nominati:
Marko Prezelj, Rok Blagus e Luka Lindic (Slovenia) - Simon Anthamatten, Samuel Anthamatten e Michael Lerjen (Svizzera) - Ueli Steck (Svizzera) - Robert Jasper (Germania) e Roger Schaeli (Svizzera) - Simone Moro (Italia) e Denis Urubko (Kazachistan).






PROGETTO SOCIALE KARL UNTERKIRCHER (sabato 10. luglio nel corso della manifestazione)





Al via il progetto di sostegno a distanza a Lhasa in Tibet



Prima della sua scomparsa, il 15 luglio 2008, sul Nanga Parbat, Karl Unterkircher, aveva espresso il desiderio di realizzare un progetto sociale in favore dei bambini più poveri del Tibet.

La moglie Silke, gli amici di Karl e Sportmeet, rete internazionale di sportivi che vivono per contribuire alla fraternità universale nello sport ed attraverso lo sport, a cui Karl era legato, annunciano la realizzazione di un progetto di sostegno a distanza dedicato alla memoria di Karl.



Il progetto che prende il via a Lhasa in Tibet, sostiene la crescita umana e culturale di bambini in difficoltà fornendo ad essi un regolare aiuto economico annuale. Il sostegno a distanza di ogni bambino che verrà inserito nel progetto continuerà fino al compimento dei 18 anni di età.





AFN – Azione per Famiglie Nuove, organizzazione non lucrativa di utilità sociale che ha in carico il sostegno a distanza di oltre 18.000 bambini in diverse parti del mondo, si rende responsabile e garante del progetto.







Per informazioni e per aderire al sostegno a distanza

:

Associazione Azione per Famiglie Nuove onlus - ufficio Sostegno a Distanza - via Isonzo, 42 – 00046 Grottaferrata (RM) – Italia; Tel. +390694546412 – Fax +390694548863; sodist@famiglienuove.org

Sportmeet for a United World: – via Frascati, 306 – 00040 Rocca di Papa (RM) - tel. +3906945407216 – fax +39069412080 info@sportmeet.org

26.05.2010
For the first time, exceptional mountaineers are awarded on the 9.-10.7.2010 in Selva di Val Gardena – Dolomites - South Tyrol



Side events

Saturday, 10th July 2010 – 5 pm

• Formal naming of the new
multifunctional centre in the square
Piazza Nives.
The local council will name the centre
after Karl Unterkircher.

• Autograph signing with the members
of the jury and the participating
mountaineers.
Silke Perathoner-Unterkircher will sign
her book "L'ultimo abbraccio della
montagna".

• Sportmeet: Presentation of the aid
project "Karl Unterkircher" in Lhasa
(Tibet).
Admission fee

€ 10,00 for 1 evening
€ 15,00 for 2 evenings

Advance ticket sale:
Info: +39 0471 777900

The members of the work group have selected 5 mountaineers or teams of mountaineers from all over Europe. Their achievements will be presented during two evenings in the square Piazza Municipio with video recordings and slide shows.

The occasion is not intended to be a competition but a get-together for top mountaineers, the inhabitants of Val Gardena and tourists alike.

An international group of judges will make their final and incontestable decision and the winner will be presented with the Karl Unterkircher Award. The first prize consists of a plaque made of dolomite and € 3000, the other participants receive also a plaque and € 1000.




Catores climbing guild and mountain guides association of Val Gardena nominate


the following 5 climbers / groups:



First presentation of the candidates – Piazza Municipio (town square outside the council) in Selva
Friday 09.07.2010 at 21:00

The Italian Simone Moro and Denis Urubko from Kazakistan. From the 7th to the 9th of Feburary made a first winter ascent of the Makalu (8463);


Simon Anthamatten, Samuel Anthamattenand Michael Lerjen from Switzerland. From the 27th to the 29th of October, opened a direct route in alpine style (1500m, M5 and 90°) on the south-east face of the Jasemba (7350m);


The German,Robert Jasperand the Swiss, Roger Schäli made the first free climb of the famous "Japanese route" on the North face of the Eiger. The climb was up th the 8th grade of difficulty.


Second presentation of candidates- Piazza Municipio (town square outside the council) in Selva
Saturday 10.07.2010 at 21:00

Marko Prezelj, Rok Blagus and Luka Lindic from Slovenia, completed 3 new routes in the Bhagirathi group, in the Himalayas of Garhwal. On the 15th of September a first ascent on the Bhagirathi IV (6194m) via the west face and the north crest (1000m, D+); 21 and 22 September: the south west face (1300m, 6b,M5 and W15,ED) of the Bhagirathi III (6454m); from the 29th of September to the 1st of October: the south south west face (1300m, 6b+,M8 and W16+,ED+/ABO-) of the Bhagirathi II (6512m);


Ueli Steck from Switzerland, on the 13th of January climbed the 'Schmid' on the north face of the Cervino in a record time of one hour 56 minutes, the Golden Gate (8a) on El Capitan (May) and the normal routes of the GII (8035m, 9th July) and the Makalu (8463m, on the 24th September).






The founders of the award are:
• Creator and coordinators: Silke Unterkircher, Peter Unterkircher (Karls brother) and Herbert Mussner;
• Patron: Florian Dr. Mussner, Provincial Councillor for Culture and Ladin Schools;
• Selectors and nominators of candidates: Adam Holzknecht, Stefan Stuflesser ('Catores' Climbing Group), Reinhard Senoner, Ivo Rabanser (Mountain Guides Val Gardena);
• Organisers of all events: Josef Kelder (President) and Ellis Kasslatter ( Director) of the Selva Gardena Tourist Information Office;
• Publicity and advertising: Christine Demetz (President) and Günter Pitscheider (Director) with its press-secretary Irene Delazzer ofGardena Marketing.
Honoured Jury
Ines Papert (D) – alpinist
Hans Kammerlander (I) – alpinist
Rolando Larcher (I) – alpinist
Volker Leuchsner (D) – chief editor of the magazine Klettern
Carlo Caccia (I) – mountaineering journalist of the magazine ALP+


Contacts:

Herbert Mussner +39 335 8097735
Peter Unterkircher +39 348 7791997
Ellis Kasslatter +39 0471 777 900
10.03.2010
For the first time, exceptional mountaineers are awarded on the 9.-10.7.2010 in Selva di Val Gardena – Dolomites - South Tyrol
A special thanks to all who have contributed to this page especially:
- Filip Moroder Doss: painted picture of the original photo
- Markus Rabanser and Luca Prinoth Internetservice – free website
- Marsica Kasslatter – website elaboration
- Diego Moroder – logo elaboration
- Susanna Scott – translation into English


- Magda M. Moroder - translation

The extreme mountaineer Karl Unterkircher died on the 15th July 2008 during an expedition on Nanga Parbat. Family, friends and colleagues have decided to create an award in honour of him to keep his name alive in the world of mountaineering.

The award will be granted to mountaineer who during the year 2009 have demonstrated great climbing skill or have carried out extreme expeditions in alpine style (without oxygen or porters). This event will be organised every year.

Karls life as an extreme mountaineer was brief but very intense. Nonetheless he has become undoubtedly part of mountaineering history. After hard training and scores of climbs, in 2004 Karl celebrated his greatest achievement; climbing both Mount Everest and K2 within two months of each other in alpine style and without oxygen! He was awarded a place in the Guinness Book Of Records 2008 for this most extraordinary accomplishment. These were just two of the extreme expeditions that Karl carried out. At least once a year he would leave for yet another challenging quest, always in alpine style without oxygen or porters and nearly all of his routes were first ascents. A high point was climbing the unscaled North Face of the Gasherbrum II in 2007, this was considered in the mountaineering world to be one of the most impressive achievements in recent years. His extreme performances were known all over the world.

Karl climbed mountains all over the world, without ever forgetting his roots back in Selva Gardena in the heart of the dolomites. He was a mountain guide and member of the historic 'Catores' climbing group and also the president of the mountain rescue '

Aiut Alpin Dolomites

'. The

'Karl Unterkircher Award'

will be granted to other such mountaineers who share Karls choice in style (rigorously alpine style without oxygen or porters).

Work group

Silke Perathoner-Unterkircher
Peter Unterkircher – brother (+39 348 7 791 997)
Herbert Mussner – coordinator (+39 335 8 097 735)

Dr. Florian Mussner – Patronage

Reinhard Senoner – Val Gardena Mountain Guide Association
Ivo Rabanser – Val Gardena Mountain Guide Association
Adam Holzknecht – Catores Climbing Guild
Stefan Stuflesser – Catores Climbing Guild

Josef Kelder – President of the Tourist Board Selva Gardena
Ellis Kasslatter – Director of the Tourist Board Selva Gardena (+39 0471 777 900)
Christine Demetz – President of Val Gardena-Gröden Marketing
Dr. Günther Pitscheider – Director of Val Gardena-Gröden Marketing